THANJAVUR (Tanjore) EKANDAM SINGLE WOOD SARASWATHY / SARASWATI CARNATIC VEENA with CARVING WORK & EXTENSIVE DECORATIONS.
Fantastic Wood Grain. Natural polish bringing out the best of this wood.
Authentic top-of-the-line professional grade veena with all required accessories, veena-plectrums, extra string set & tutorial book
beware of veenas made of inferior tun wood that are sold at bargain basement prices as jackwood veenas by unscrupulous sellers, beware of cleverly disguised jointed veenas sold by North Indian and most US sellers (those pieces come from the sitar-making town of Miraj and are meant for the touristy "display" market)
Top-grade Kudirai bridge and beautifull crafted nada randhra sound holes. Look at the wood grain, it is absolutely fabulous.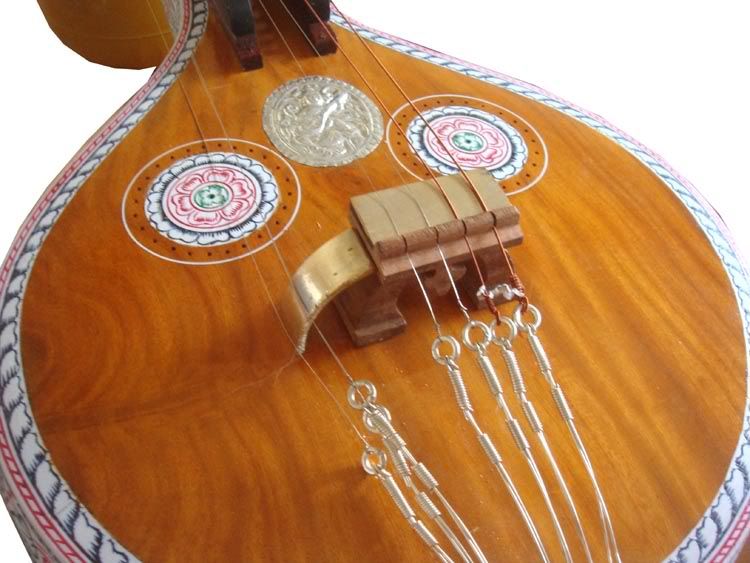 Massive full-size Kudam resonator with all-brass Naga Pasha fittings and extensive traditional kamala decorations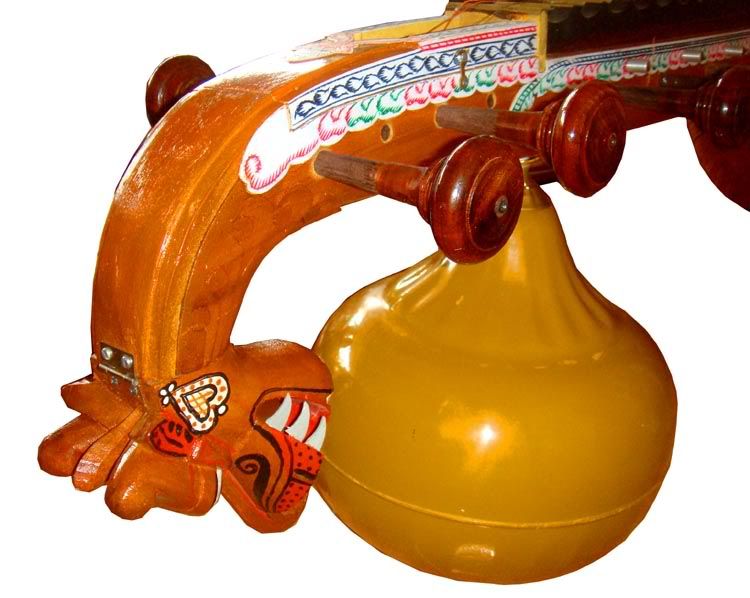 beautifully crafted dragonhead Yali tailpiece with premium-quality extra-large Sarrokai resonator.
in all its glory, with high-grade rosewood birdai pegs and


special teakwood guard to protect the sensitive mettu and dandi from damage
About four feet in length, its design consists of a large resonator (kudam) carved and hollowed out of a log of jackwood, a tapering hollow neck (dandi) topped with 24 bell-metal frets set in scalloped black wax on wooden tracks, and a tuning box culminating in a downward curve and an ornamental dragon's head (yali). A small table-like wooden bridge (kudurai)—about 2 x 2½ x 2 inches—is topped by a convex brass plate glued in place with resin. Two rosettes are on the top board (palakai) of the resonator. Four main playing strings tuned to the tonic and the fifth in two octaves (for example, B flat-E flat below bass clef - B flat- E flat in bass clef) stretch from fine tuning connectors attached to the end of the resonator. across the bridge and above the fretboard to four large-headed pegs in the tuning box. Three subsidiary drone strings tuned to the tonic, fifth, and upper tonic (E flat - B flat- E flat in the tuning given above) cross a curving side bridge leaning against the main bridge, and stretch on the player's side of the neck to three pegs matching those of the main playing strings. All seven strings today are of steel, with the lower strings often wound like those of the lower strings of a guitar. The chromatic distribution of frets (12 to the octave) points to a possible adoption of the fretting of the guitar.
REAL JACKWOOD, NOT CHEAP JUNGLE WOOD - REMEMBER THE DIFFERENCE - IT MAKES A HUGE IMPACT ON SOUND & DURABILITY
most of our premium Veenas are custom-made, so please allow for 15-20 days additional for fresh instrument to be produced as per your requirement and decoration request. This is available in full dark brown stain with line work or in traditional cream-yellow with carving as shown above.
FREE VEENA TUTORIAL MANUAL