Our string sets are made of top-grade German Roslau steel and musical-grade bronze and copper wires as applicable.
PROFESSIONAL INDIAN SAROD STRING SET. HIGH-GRADE GERMAN STRINGS.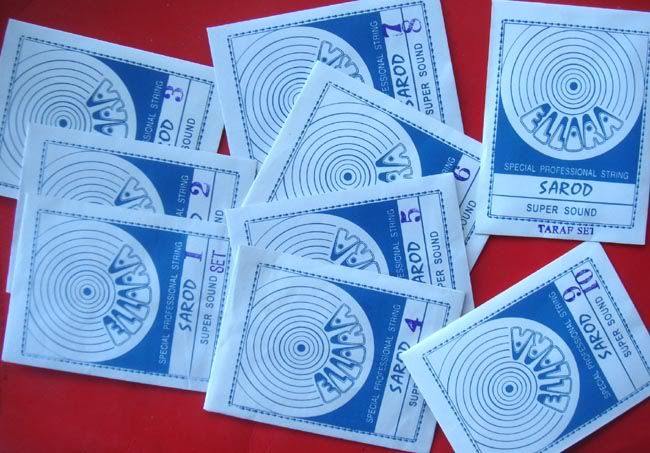 SET INCLUDES MARKED AND NUMBERED CONFIGURATION FOR BOTH AMJAD ALI KHAN (23 strings) OR ALI AKBAR KHAN STYLE (25 strings).
The four main playing strings starting from the top are tuned to Sa, Pa, Sa, Ma.
The drone strings are called Chikaras -(0) and Chikaris – (00) and are tuned to Sa and Sa-
The following table details the 11 taraf (sympathetic) strings
| | |
| --- | --- |
| Re | 2 |
| Ga | 1 |
| Ma | 1 |
| Pa | 0 |
| Da | 0 |
| ni | 0 |
| Ni | 00 |
| Sa- | 00 |
| Re- | 00 |
| Ga- | 00 |
| Ma- | 00 |